March 2015 Concert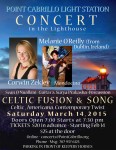 Join Irish singer-songwriter Melanie O'Reilly, with the musical group "Kurka Boshkin/Corca Baiscin," featuring Corwin Zekley on fiddle. Listen to the exhilarating sound of Irish-themed music & song, old and new, in Gaelic as well as English, with a celtic-americana contemporary twist, interwoven with a potent mixture of high energy instrumentals and soaring vocals.
The concert will take place at the Point Cabrillo Light Station in the Lighthouse, 45300 Lighthouse Rd. Mendocino, CA on Saturday, March 14 at 7:30PM. Tickets are $20.00 in advance beginning February 14 and $25.00 at the door. Doors open at 7:00 PM. Tickets are available by contacting concerts@pointcabrillo.org or leave a message at 707.937.6123.
You may park in front of the keepers' houses.
The group Kurka Boshkin is inspired by Corca Baiscin, which is the name of the ancient territory now known as County Clare on the west coast of Ireland. In this musical fusion, you will be brought on a creative journey, a cultural bridge bringing together both sides of the Atlantic. Also featuring Sean O'Nuallain on guitar, and Surya Prakasha on percussion.
"Spellbinding… uplifting music from a true innovator", Rough Guide to Irish Music
"Gorgeous sound… celtic cadence with a jazz sensibility", Andy Gilbert, Contra Costa Times
Melanie O'Reilly from Dublin, is currently based in Berkeley CA. She has been recognized by the US as an artist of extraordinary ability and is an internationally known singer, song writer & music educator. She has recorded six albums for the label Mistletoe Music, and her ground-breaking unique celtic vocal sound has earned her the title of a "true innovator". She regularly performs at many international festivals in the US, Ireland and Europe, some of which include IMRAM, the international Irish Language Literature Festival and the National Concert Hall Dublin, as well as representing Ireland at the European Union Jazz & World Music Festival at UCLA. Melanie is also a committed music educator specializing in Gaelic Song, as well as Jazz Vocals. She has taught at Mendocino's own Lark Camp as well as the Oakland School of the Arts, and UC Berkeley's CAL Extension, amongst others. She is currently a faculty member of the Starland Music Academy in Alameda, CA, and regularly teaches at the California Jazz Conservatory Berkeley as part of their World Music program. She also teaches an annual series on the Art & Craft of Songwriting at Walton's New School of Music, Dublin, Ireland. She was a Visiting Scholar & Musician-in-Residence at UC Berkeley's Celtic Studies from 2003-2009.
www.melanieoreilly.com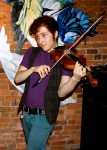 Corwin Zekley is fast becoming one of the young stars of the Mendocino area. He has been playing violin for the majority of his life and has been singing and writing songs for several years. He attended Idyllwild Arts Academy as an improvisation and songwriting major. He lives in Mendocino, California; he performs in local venues and plays in several groups, including as a featured performer with Melanie O'Reilly's celtic and jazz groups. He joins her for this very special event at the Lighthouse.
www.corwin.us/