Spend the Night Here
Stay on the Mendocino coast in one of our vacation rental homes. We have two larger houses and two smaller cottages available for overnight stays. Select one or more for your reunion, holiday, or vacation. Rentals are managed by Mendocino Coast Reservations 800.262.7801. Call them or email mcr@mendocinovacations.com to make your reservation.
To find out more about a unit please click its picture.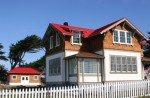 The Head Lightkeeper's House is a two story home built in 1909. It was historically restored on the exterior and provided with modern amenities in 2006. The four upstairs bedrooms each have a queen bed, attached baths, and individual thermostats for your convenience and comfort. You will delight in cooking simple breakfasts to gourmet dinners in the spacious modern kitchen.
---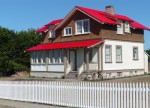 Newly restored and decorated throughout in 2014, the
2nd Assistant Lightkeeper's House
with its bright red roof, freshly painted interior, new carpeting and furnishings, and kitchen with all new appliances, is now ready for your vacation rental pleasure.
---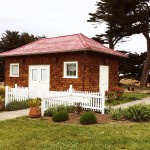 East Cottage: When built in 1909, each lightkeeper had a storage shed and workshop behind their house. These buildings were restored in 2006 to the their historic exterior appearance. The interiors were changed to provide a one bedroom cottage each with a queen bed, coffee maker, microwave, and small refrigerator. The bathrooms provide roll in wheel chair access to the floor to ceiling tile showers. This cottage is located behind the Head Lightkeeper's House.
---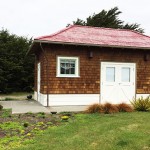 West Cottage is located behind the Assistant Light Keeper's House. It has all of the same feature and amenities of the East Cottage and is pet friendly. Please note that all pets must be on lead at all times when visiting the Point Cabrillo Light Station State Historic Park.