The Frolic Story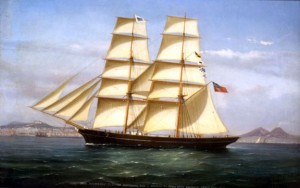 In the summer of 1850 a sailing brig named the Frolic struck the reef just north of Point Cabrillo and settled in a cove at the north end of what is now the state park property. Dubbed "the most significant shipwreck on the west coast" by historians at the San Francisco Maritime Museum, the story of the Frolic was researched by Dr. Thomas Layton, an archaeologist and head of the anthropology department at San Jose State University.
The significance of the wreck was that the eventual salvage attempt led to the discovery of the redwood forest. The attempt at salvage failed, but the harvesting of the redwoods led to the creation of towns and mills along the Mendocino coast.
Divers discovered the wreck in the 1950s. It was initially thought to be a Chinese junk. In 2003 and 2004 there were formal archaeological survey projects to document the shipwreck. The site is now a California State Underwater Park.
Click to learn more:
References and Bibliography
Layton, Thomas N., The Voyage of the Frolic: New England Merchants and the Opium Trade, Stanford, 1997
Layton, Thomas N., Gifts from the Celestial Kingdom: A Shipwrecked Cargo for Gold Rush California, Stanford University Press, 2002
Additional material supplied by Thomas Layton, Ph.D.and by Sheli Smith, Ph.D., director of the Frolic dives.