Home
What's new at Point Cabrillo Lighthouse…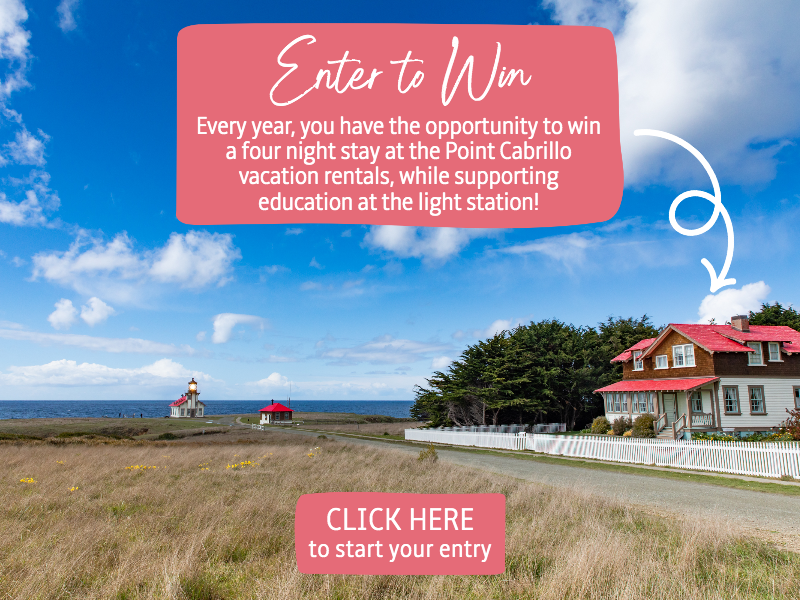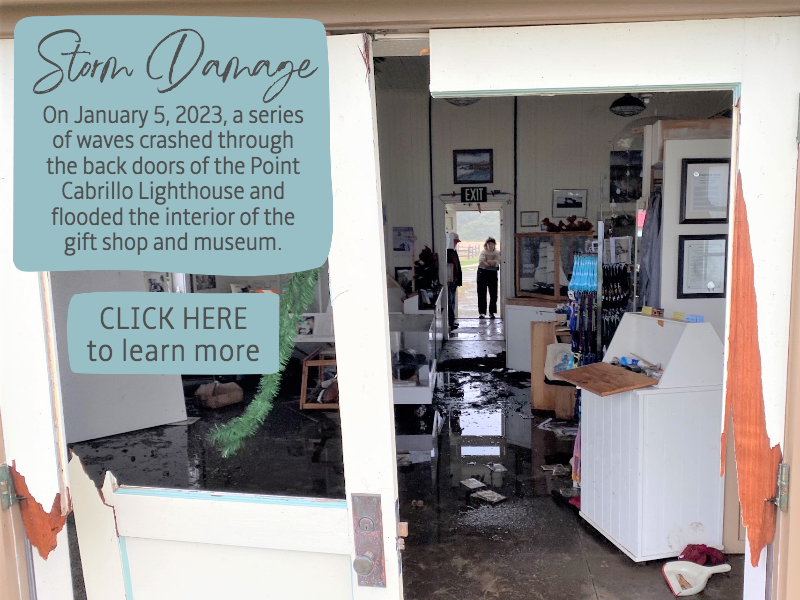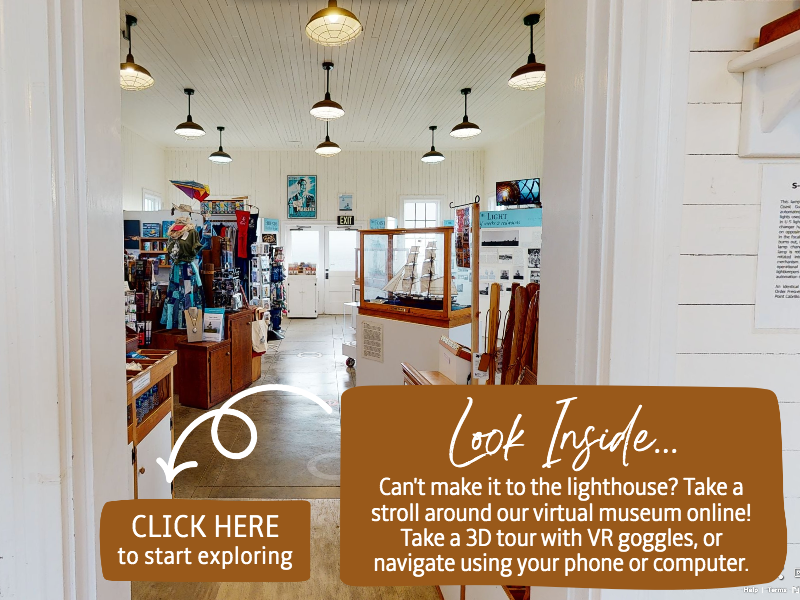 Lens Tours at Point Cabrillo
Lens Tours have started up once again! CLICK HERE to find out what days you can climb to the top of the Point Cabrillo Lighthouse in Mendocino, California.
Notices and Upcoming Events
Are you visiting Mendocino soon? Consider staying overnight at the Light Station. Check out our rental units! Some units are pet friendly.
Currently, the Lighthouse Museum is open to visitors from 11am-4pm every day, as well as the Assistant Lightkeeper's House Museum and Marine Science Exhibit.
Spend the Night Here

Stay on the Mendocino coast in one of our vacation rental homes. We have two larger houses and two smaller cottages available for overnight stays. Select one or more for your reunion, holiday, or vacation.
[... see full page]
Welcome!
This State Historic Park occupies a spectacular headland extending out into the Pacific. There is a parking area inside the gate off Point Cabrillo Drive, adjacent to the restored Kearn farmhouse. Enjoy the half mile downhill walk to the Light Station buildings. Note: there is parking for disabled persons in front of and behind the 1st Assistant Lightkeeper's House (the first residence) at the bottom of the hill.
There are two paths to the Station. The dirt path begins at the north end of the parking lot and takes you through the introduced grassland and coastal prairie. The paved access road to the south is an easier walk. Please use established trails and keep dogs leashed and under control at all times.
As you stroll down this road, the Point Cabrillo Light Station is arrayed before you. The Light Station includes:
our Lighthouse, which is an active duty Aid to Navigation, containing the original Chance Brothers classic 3rd order Fresnel lens
three restored Lightkeeper homes; the first house is a period museum of a lightkeeper's house in the 1930s; the other two houses are comfortable vacation rental homes
the restored Blacksmith & Carpentry Shop, which houses the Marine Science Exhibit with its 240 gallon saltwater aquarium
three restored storage buildings behind the residences; two of these have been converted to lovely vacation rental cottages, the other is a public restroom
The main floor of the Lighthouse, the 1st Assistant Lightkeeper's House and the Marine Science Exhibit are open to the public from 11am to 4pm year-round. The State Historic Park is open from sunrise to sunset daily. The main floor of the Lighthouse is dog-friendly.
Tour Our Web Site
Click to learn more: