Explore the Point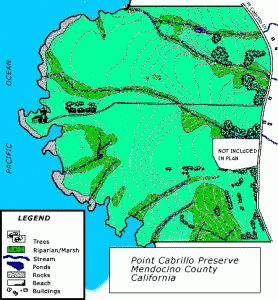 Explore this marvelous spot. There may be harbor seals resting on offshore rocks as well as sea lions swimming by. A variety of birds may fly overhead, perch in trees or be seen on the rocks. Search the sea for telltale plumes of condensed breath rising into the air which will tell you that whales are present. Gray whales are most common and easy to see from shore from December into April. Blue and humpback whales are random visitors in the summer and fall. Dolphins and porpoises of many species visit sporadically year round.
---
Self-Guided Tours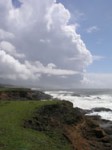 Point Cabrillo is open for pedestrian use from sunrise to sunset daily. There are hiking trails throughout the Point which wind through coastal prairie and coastal bluff habitats. It can be chilly and windy. Layered clothing is suggested.
Please use established trails and keep dogs leashed and under control at all times.
Use extreme caution near the ocean and bluffs. Erosion undercuts the bluff edges making them unstable, and ocean waves are unpredictable.
Note that, due to the fragile and sensitive cultural and wildlife resources present at Point Cabrillo Light Station State Historic Park, the flying of private drones is prohibited throughout the Park.
Group Tours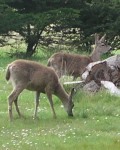 There are no regularly scheduled group tours, but arrangements can be made for large groups. For information concerning guided group tours for ten or more people, click here.
---
Frolic Cove

Frolic Cove is the site of the 1850 wreck of the clipper brig Frolic. The cove is just north of the Lighthouse. The attempt to salvage goods from the wreck led to the discovery of the redwood forest, which powered the coastal lumber industry and the development of Northern California coastal towns.
---
Learn More
Click to learn more.