The Cottages
There are two rental cottages at the Point Cabrillo Light Station State Historic Park. They are similar. The cottages were originally used as storage and workshop space by the earlier lightkeepers. The building exteriors were historically restored in 2006 and the building interiors were adapted to their new use as handicap accessible vacation rental cottages.
The entrance to each cottage is through the west-facing door. The east-facing door and the center two doors, while historically accurate, no longer function as doors.
East Cottage
East Cottage is behind the Head Lightkeeper's House (the middle house).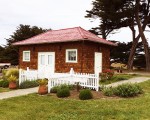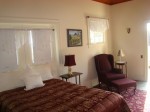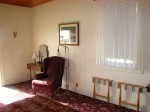 ---
West Cottage
West Cottage is nearer the ocean, behind the 2nd Assistant Lightkeeper's House. This cottage is a pet friendly rental. Please note that dogs must be on leash at all times while on the grounds of the State Historic Park.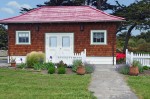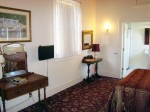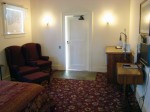 ---
Rental Information
These cottages can be rented either individually or as additional bedrooms in combination with rental of the Head Lightkeeper's House or the 2nd Assistant Lightkeeper's House.
For additional information, to check availability, or to reserve nights at the Point Cabrillo Light Station cottages please contact Mendocino Coast Reservations by phone (707) 937.5033 or email mcr@mendocinovacations.com. For more details, click below: