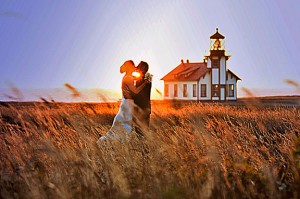 credit: Daniel MacDonald / www.dmacphoto.com
Point Cabrillo Light Station is a marvelous spot for family reunions and friendship gatherings on the Mendocino Coast. Conveniently located between Mendocino and Fort Bragg, there is on-site housing for up to 18 people.
Weddings
We love weddings. Plan your Mendocino Coast wedding at Point Cabrillo Light Station either in the historic lighthouse or on the adjacent bluffs against the backdrop of the majestic Pacific Ocean.
For your one and only special day, we offer:
Wedding parties of up to 30 people in the lighthouse building.
Wedding parties of up to 150 people on the bluffs above the Pacific Ocean.
Rental houses and cottages that can accommodate up to 18 people in your wedding party.
A discount on the site fee when one of the houses is rented in conjunction with your wedding.
A discount on the site fee for Mendocino County residents.
Please click here to reserve a wedding date for 30 days or until we receive a signed contract and deposit.
Please click here to obtain a copy of our wedding terms and a blank contract.
If interested in a reception on site, there is a separate contract and fee, whose major requirement is that all four vacation rentals be booked for the wedding. The purpose of this is to protect other visitors from discovering they have reserved a unit in the midst of a wedding. This prerequisite requires advance planning. Reservations are made thru Mendocino Coast Reservations at 1-800-262-7801 or 707-937 5033. You may check with them for availability and cost.
For information and to begin planning your wedding and/or reception at Point Cabrillo, please send an e-mail to weddings@pointcabrillo.org. Be sure to include your telephone number. Our wedding coordinator will contact you to answer any questions you might have about your wedding day at the Point Cabrillo Light Station.