Best News Ever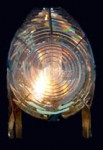 October 2014: Point Cabrillo Light continues as a federal aid to navigation –
Dear Friends and Supporters of Point Cabrillo Light Station State Historic Park,
As most of you know, in 2013 the Point Cabrillo Lighthouse was considered for discontinuance along with many other federal aids to navigation. As a result of an inquiry initiated by Congressman Jared Huffman's office, the PCLK has received fantastic news. According to Chief of External Affairs Collin Bronson of United States Coast Guard District Eleven, the Point Cabrillo light was evaluated and in consultation with the local community and the unique demands of the area it was decided by USCG staff in District 11 that the Point Cabrillo Lighthouse would remain a federal aid to navigation with no further plans to remove or alter the light.
I find myself at a loss of words to sufficiently express my relief, joy and gratitude. To everyone who helped make this happen, be proud of what you helped accomplish. The Point Cabrillo Lighthouse has been in operation as a Federal Aid to Navigation since 1909 and because of you, it will continue to light the way home.
Tanya Smart, President
Point Cabrillo Lightkeepers Association