Learn About Whales!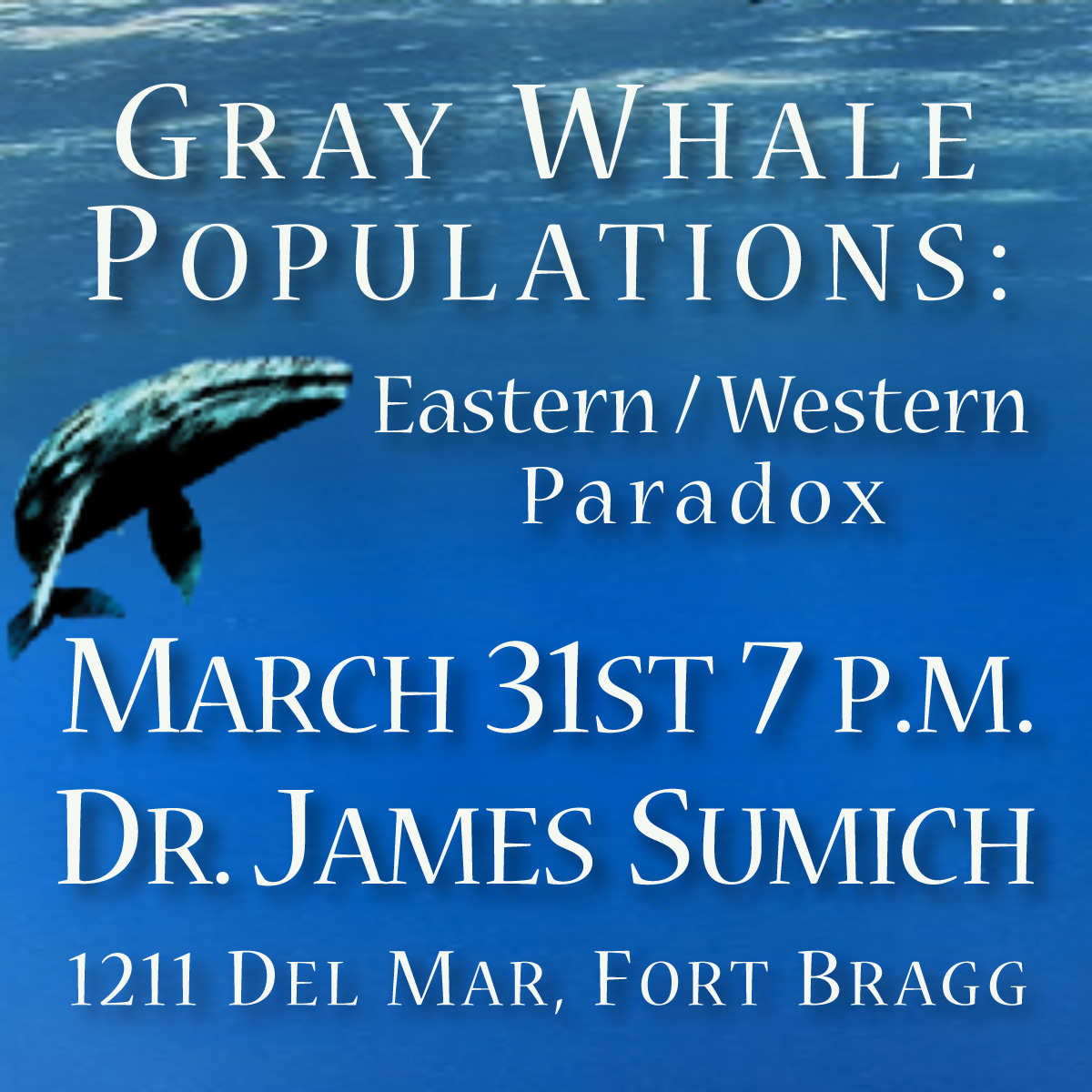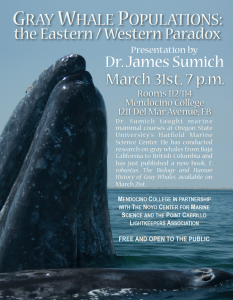 On Friday, March 31st at 7:00 pm there will be a presentation on gray whales at the Fort Bragg campus of Mendocino College. The speaker is Dr. James Sumich of Oregon State University. His subject is "Gray Whale Populations: the Eastern/Western Paradox." The talk will take place in rooms 112/114 at Mendocino College, 1211 Del Mar Avenue, Fort Bragg, CA. The talk is free and open to the public. Sponsors are Mendocino College in partnership with The Noyo Center for Marine Science and The Point Cabrillo Lightkeepers Association.
The gray whale is, at the same time, a species with an extinct population, a critically endangered population, and a population brought back from near extinction to become the first cetacean to be removed from the US Endangered Species Act as recovered. It is also a species that has demonstrated remarkable adaptability in the face of a rapidly changing environment. In his talk, Jim Sumich will discuss the past and current distributions, migrations, and genetics of gray whales, and some likely future scenarios for this species in the context of our changing climate.
Dr. Sumich is the author of a best-selling textbook on marine biology (now in its 11th edition!) and co-author of "Marine Mammals, Evolutionary Biology". He has taught marine mammal biology at the college and university level for more than four decades and has conducted research on gray whales from British Columbia to Baja California. Jim currently holds a Courtesy Faculty Appointment at Oregon State University's Hatfield Marine Science Center. He recently published a general audience book "E. robustus: The Biology and Human History of Gray Whales".
A book signing will follow the presentation and copies of "E. robustus" will be available for sale.
Please join us!