Jen Lewis: January Notes from the Light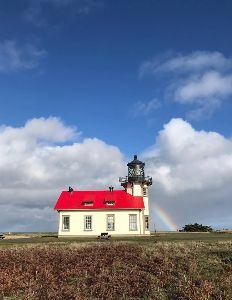 I can't believe we're already halfway through January, and getting ready for our Whale Festival season.
It has been raining like crazy lately, and it's one of my greatest joys to spend an afternoon listening to the wind whip around the Lighthouse and the East House Museum, and feeling it shake the buildings with every gust. These structures have stood for 110 years, and they aren't going anywhere now!
I've always been a lighthouse nerd, but working with PCLK has brought the obsession to a whole new level. While visiting Washington this past month, I had the opportunity to visit both the Mukilteo Light Station, as well as the West Point Lighthouse. Both were closed during my time there, but it was wonderful touring the grounds and seeing how other nonprofits and government agencies maintain their Light Stations.
Point Cabrillo has been very lucky to have an amazing group of supporters here in Mendocino, and around the world. The reviews we get on Tripadvisor, the emails we receive from donors, and the comments we get from locals make me feel so honored to be a part of this organization, preserving such an important piece of history.
As we move forward with plans for the Historic Barn, and get ready for Whale Festival Lens Tours, I'm excited to start off 2019 with the foundation of support that we have here at the Point Cabrillo Light Station.
Jen Lewis
Outreach + Fundraising Manager
P.S. I just finished reading Brilliant Beacons: A History of the American Lighthouse. It's a GREAT read for any lighthouse or history nerd – I highly recommend! Shoot us an email if you'd like to purchase a copy from the Lighthouse gift shop.