Looking Back on the Year 2015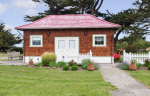 Dear PCLK Volunteers, Friends and Supporters,
As we sail into 2016 it seems the right time to remember and comment on all that we did the year before. As always, all that we accomplished in 2015 was made possible by you, our amazing volunteers, friends and supporters.
The new normal at Point Cabrillo is an annual painting season which occurs after the heavy fogs of summer and finishes (hopefully) before the rains start. It promises to be an annual event. During this year's prep we were disappointed to find that the roof on the First Assistant Lightkeeper's House was failing and would need to be replaced – so we put that off until next year. We quickly switched the painting plan to encompass the cottages. The brilliant red roofs sparked lots of "wow" comments from visitors.
Spectacular new educational displays and new ceiling lights were installed in the Marine Science Exhibit thanks to a grant from the State Parks Foundation and funds from supporters. We are grateful to all the photographers who donated photos and to the graphic artist who developed these beautiful panels. New displays explaining the offshore protected areas and National Monument were installed as well.
In November we implemented a new "roving whale docent" program for weekends. So far, one experienced and dedicated whale docent has been there on at least one day of the weekend as his schedule and the weather allows. This has been a wonderful addition to our interpretive activities and visitor response has been overwhelmingly positive. The advantage of seeing the southward bound gray whales before anyone else was this docent's reward.
It would be too easy to take for granted our regular activities.  We do these things year after year but it is worth reminding ourselves that what we do as a matter of routine is remarkable and unique among volunteer led and run organizations. Volunteers with the USCG Auxiliary keep the magnificent Fresnel Lens shining. Our lens tours have become very popular events that fill to capacity 8 days a year. Retail volunteers opened the Lighthouse, First Assistant Lightkeeper's House and Marine Science exhibit every day and personally welcomed more than 40,000 visitors to the Lighthouse in 2015. Our Education Program staff met nearly 1000 students to share the natural and cultural history of Point Cabrillo and inspire them to become future stewards of such magnificent places. The aquarium in the Marine Science Exhibit is healthy and thriving thanks to the volunteers and staff who care for it. Whale Festival raised enough money to fund our Education Program and was lots of fun. Docents led more than 15 group tours from May through October – occasionally two in one day. We got together over potluck and barbecue to celebrate and catch up with each other. We do this every year to the point it may seem routine but each activity takes volunteers and supporters to make it happen.
On behalf of the Board of Directors, I want to thank you for all the work you did this past year. Whether you are new to our organization or a volunteer with thousands of hours, please know that no accomplishment happens without you.
Sincerely,
Tanya Smart, President
Point Cabrillo Lightkeepers Association