Jen Lewis: Lighthouse Keeper's Daughter Book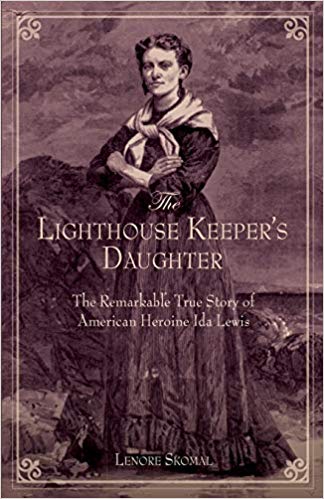 As a longtime fan of lighthouses, any time I can get my hands on a book about the lives of the lightkeepers, I dive right in. Lenore Skomal's telling of the story of Ida Lewis is an engaging and enlightening look into one woman's life – but also touches on so much more.
In 1857, Ida's father moved their family to Lime Rock, a small lighthouse island in Newport Harbor, Rhode Island. Just four months after their move, her father suffered a stroke and became disabled. Ida was just 15 at the time, but took on her father's lightkeeping duties, in addition to caring for her father alongside her mother. She rowed her siblings from the island to school every day, and cared for the light through the dark hours of the night, tending to the wick, filling up the oil reservoir and keeping a watch for struggling boats. After her father passed away in 1873, the US Lighthouse Service appointed Ida's mother as lightkeeper, and Ida continued to live with her on the island, performing most of the lightkeeping duties. After her mother passed away, Ida was officially given the title of Lightkeeper of Lime Rock in 1879, after she had already been serving Newport Harbor for over two decades.
Over her years at Lime Rock, Ida was personally responsible for saving at least 18 lives, by rowing out into the harbor during storms and rescuing capsized boats and sailors. Her last known rescue was at the age of 63, when a friend coming out to visit her fell out of her boat, and Ida quickly rowed out to pull her out of the water.
Ida died at the age of 69 in 1911, and there is SO much more to her story. Lenore's book covers the politics surrounding Ida's work, her confusing marriage, her unwanted fame and the frustration that plagued her in her later years.
Ida Lewis was truly a magnificent woman who dedicated her life to saving the lives of others. Lenore Skomal's book is a great way to learn more about the hardships that both women and men lightkeepers had throughout America's history.
I felt honored to be able to take this small look into Ida's life, and it's a great read for any adventurous young woman – or anyone interested in lightkeepers!
Jen Lewis
Outreach Manager